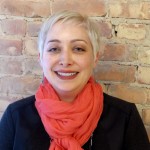 Jamie Schriner-Hooper is CEDAM's Executive Director, overseeing all areas of the organization. Since joining CEDAM in 2010, both CEDAM's staff and projects have significantly expanded to better serve its members.
Jamie has expertise and is able to provide technical assistance in a variety of subjects, including board development, strategic planning, fundraising, volunteer training and special events and has been a guest speaker at a number of conference and events.
Prior to joining CEDAM, she served as the Organizational Specialist with the Michigan Main Street Center @ MSDHA, where she worked with communities to create and improve their Main Street program, a national approach to revitalizing traditional, historic downtowns and neighborhood commercial districts. Jamie worked at the local level as the Executive Director of the Old Town Commercial Association, a non-profit organization dedicated to revitalizing Lansing's historic Old Town district. While there, Jamie helped to welcome in 30 new businesses in one year alone, won IKEA's Main Street Makeover contest and created a number of new events and fundraisers including the Festival of the Moon, Old Town Oktoberfest and more. Jamie also worked as the Communications and Government Affairs Specialist for Emergent BioSolutions (formerly BioPort Corporation), where she created their Charitable Giving Committee and helped to create partnerships with local non-profits, as well as worked with a number of national organizations to help create the Partnership for Anthrax Vaccine Education.  Jamie and her husband own and have rehabilitated several historic properties in the Greater Lansing area.
Jamie is a Big Sister and served on the Big Brothers Big Sisters Michigan Capital Region Board of Directors until being term-limited in December, 2014, is a board member and the former secretary for the National Alliance of Community Economic Development Associations Board and the former Chair of the Federal Home Loan Bank of Indianapolis' Affordable Housing Advisory Council. She also serves on a number of other boards and advisory committees, including the Old Town Commercial Association, the Michigan Main Street Advisory Committee and the Michigan Magnet Fund Board. She is a founding member of VACANT Lansing and volunteers with a number of organizations. Jamie possesses a Bachelor's degree in Psychology, Family Studies and German from Central Michigan University and a Master's degree in Communications from Michigan State University.