CEDAM members work across Michigan to build vibrant communities and create places that are accessible to everybody. The type of programs and work that is done each year evolves to address the growing and changing needs of community members.
Here are just a few of the projects that CEDAM members completed in 2015 through 2017. All CEDAM members can submit projects to be featured simply by filling out the form at the bottom of this page. ________________________________________________
Building Families First Community Organization: The Fenmore Project (2016)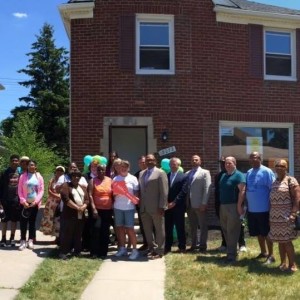 Building Families First Community Organization is located in Livonia, Michigan.
In their words:
"The home was donated by Wells Fargo through their "CUSP" program and funded by Opportunity Resource Fund along with Wells Fargo. We acquire unoccupied homes that are bank-owned properties, undertake a complete rehab, then sell the homes at an economical price. 
This initiative:
Helps families purchase homes with value and reliability
Preserves the quality of neighborhoods
Enhances the value of existing housing stock" 
______________________________________
Michigan Historic Preservation Network: Detroit Preservation Demonstration Project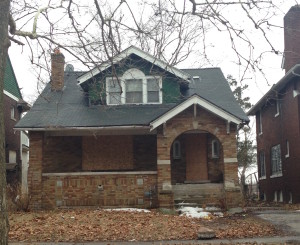 Michigan Historic Preservation Network is located in Lansing, and this project was in Detroit.
In their words:
"MHPN's Detroit Preservation Demonstration Project aims to demonstrate the role that strategic preservation and rehabilitation play as catalysts for community revitalization in a tipping point neighborhood. For the past six months, we have worked with the Detroit Land Bank Authority's new community partnership program to purchase and rehabilitate a long vacant and neglected home in the Jefferson-Chalmers neighborhood to move-in ready condition. In addition to demon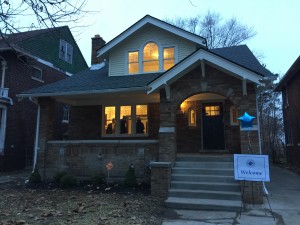 strating how historic preservation techniques can inform rehab construction practices through the bricks-and-mortar rehabilitation of the Lakewood house, our goal is to help stabilize the block and create a critical mass of investment necessary to impact surrounding property values, public safety and perception of blight. The combination of MHPN's revolving fund program and our educational offerings will continue to encourage other residents and community organizations to rehabilitate historic residential properties in their neighborhoods."
______________________________________
Cinnaire, Cass Corridor Neighborhood Development Corporation and Ginosko Development: Cass Plaza
This collaboration took place in Detroit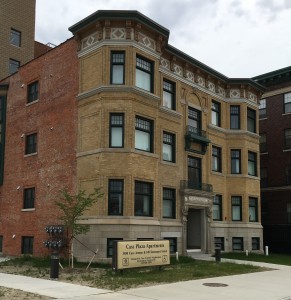 In their words:
"Cass Plaza includes the renovation of two existing historic apartment buildings in Detroit, MI: one 7-story elevator building in 1924 (3350 Cass Ave.) and one 3.5-story walk-up built in 1918 (149 Davenport St.). The buildings are immediately adjacent to each other and combined, contain 47 residential units for families (39 units in the larger building and 8 units in the smaller). Construction was financed with tax exempt bonds issued by MSHDA, LIHTC and Historic Tax Credit equity, City of Detroit HOME funds, FHLB AHP financing, Brownfield Tax Credit equity and several other soft loans arranged by CCNDC. Total development costs were approximately $12M."
______________________________________
Urban Neighborhood Initiatives (UNI): Leadership 101
UNI is located in Southwest Detroit
In their words: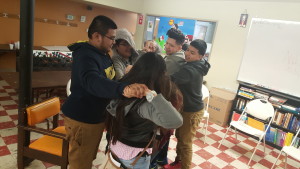 "Leadership 101 is a program designed to develop youth to become leaders within their community. These youths attend weekly workshops to develop skills in teamwork, organizing, and professional development. The program also offers SAT prep classes, scholarship writing workshops, and tutoring for youth that have a 2.5 grade point average or below. The program's goal is to have the youth practice the skills they have learned by organizing and implementing projects based on their chosen areas/issues. Lastly, youth will be provided the opportunity to be mentored and to job shadow adults in the career path they select. Youth participating in the program will also receive a small stipend every month."
______________________________________
The Greater Lansing Housing Coalition: Tuesday Toolmen
The GLHC is located in Lansing
In their words: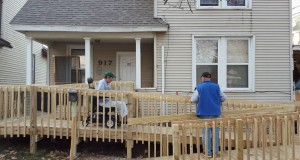 "Our Tuesday Toolmen volunteer to provide free home repairs and safety modifications for low-income seniors and adults with permanent disabilities. Here Frank looks on as Daniel, who is a double amputee, gets safely in and out of his home on his new accessibility ramp. It is one of 20 ramps the Tuesday Toolmen have built this year!
Some of the other projects Tuesday Toolmen excel at include installing grab bars, stair treads, smoke and carbon monoxide detectors, exterior doors, and replacing thermostats or motion detectors for exterior lighting!
The Greater Lansing Housing Coalition's mission is to help our community prosper by providing quality housing assistance for all, revitalizing neighborhoods, and empowering residents through education and counseling."
______________________________________
Community Housing Network: House Rehabilitation
CHN is located in Troy
In their words: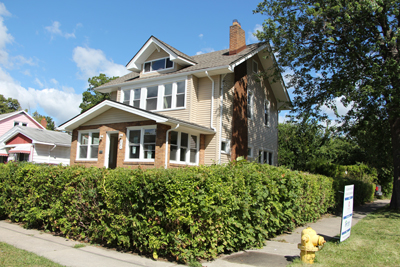 "Community Housing Network worked with Oakland County's Community & Home Improvement Division in their Oakland County HOME Program to perform acquisition and rehabilitation of this house at 221 E. Judson, Pontiac, MI. The program is federally funded and is designed exclusively to create affordable housing for low to moderate income households. The house underwent extensive rehab to ensure that it is free of all major maintenance concerns. In addition, Oakland County grants each approved applicant homebuyer's assistance which helps fill the financial gap between mortgage loan and home purchase price. The home at 221 E. Judson is part of a wider community revitalization effort in the Unity Park neighborhood of Pontiac led by Community Housing Network. By leveraging various funding sources and partner organizations, Community Housing Network has been able to leverage resources into redeveloping the neighborhood while also ensuring various residents housing needs are met, from supportive housing to home ownership opportunities such as this project at 221 E. Judson."
______________________________________
Levine Law Group: City Hall Artist Lofts
Levine Law Group is located in Lansing and this project was in Dearborn
"City Hall Artist Lofts, located in the City of Dearborn at the intersection of Michigan Avenue and Schaefer Road, is being developed by Artspace,a national non-profit housing developer with its main offices in Minneapolis, MN. Once completed the development will offer 53 affordable live/work spaces for artists and their families, work studios, incubator space for entrepreneurs and artists, office space for creative businesses and nonprofits, a live/work unit for an artist-in-residency program, and galleries. With a total development budget of $16.5 million, City Hall Artist Lofts is the historic preservation and adaptive reuse of the City's old city hall and annex building formerly used as its Police Department. City Hall is currently accepting applications for artists to lease a unit and will likely have its Grand Opening in early 2016. The Levine Law Group acted as its local counsel representing it in the negotiation and closing of the equity, grant, and loan funding sources that is making City Hall a beautiful addition to downtown Dearborn."
______________________________________
Housing Resources, Inc: Rickman House Outdoor Park
Housing Resources, Inc is located in Kalamazoo
In their words:
"Housing Resources, Inc. successfully created greenspace and an outdoor park adjacent to the Rickman House in the heart of downtown Kalamazoo. The Rickman House, an historic building, is owned and operated by Housing Resources, Inc. as part of HRI's commitment to permanent, affordable housing. The Rickman House is home to 49 single adults living with a disability who are low income. Known as "The Little Park", funds to purchase the space for the park were donated by long-time supporters and advocates for the Rickman House so that residents could have a safe, relaxing, outdoor space to enjoy. This beautiful outdoor space reflects a true collaboration of private and public partners working together to create greenspace for people living in permanent, affordable housing."
______________________________________
You must be a CEDAM member to have projects featured on this page. Feel free to submit as many projects as you like, but please only one project per form entry. If you have any questions, please contact Emily Reyst at emily@cedam.info.