What would you sacrifice to keep your family safe and healthy?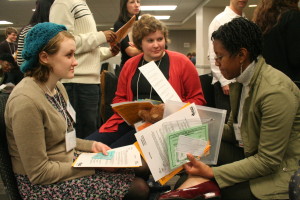 CEDAM hosts unique and interactive experiences of what it's like to live in poverty. In the poverty simulation, you'll go to work, take care of your family, grocery shop, buy clothing and look for resources to keep your family afloat for a month.
About
The entire simulation takes 3 hours and includes facilitated discussion. Participants will leave with a better understanding of poverty and its effect on people and communities. The minimum number of attendees is 40, and we have the capacity to host up to 75.
Work with CEDAM to host a poverty simulation for your staff, community, stakeholders and others.
Want to learn more? Watch this 13 minute recording to help you understand what a poverty simulation is, what CEDAM brings to the table and what your organization's responsibilities will be in hosting a simulation.
Please contact us for poverty simulation pricing and scheduling.
Contact
Contact Susan Andrews at or 517-485-3588 with any questions or to schedule a poverty simulation.
Photos from Past Simulations